American Phil Helmut was unable to break his own record at the WSOP
American pro-player Phil Hellmuth, known for his aggressive behavior at the poker table and owner of fifteen WSOP bracelets, almost won the sixteenth bracelet than would have broken his own record. This did not happen in the 8-Game Mix competition with a buy-in of two and a half thousand euros at WSOP Europe. Phil finished in third place and took with him more than 31 thousand euros in prize money.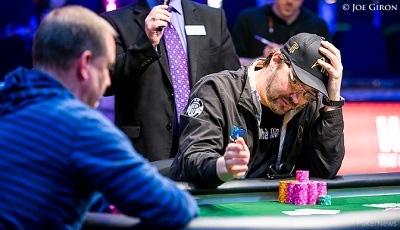 In the final stage of the tournament, Phil lost to Norwegian player Espen Sandvik, who was among the winners of the WSOP for the first time and won his first bracelet, as well as over 75 thousand euros in prize money.
Phil Hellmuth is now the all-time World Series of Poker finishers. On account of Helmut 147 prizes at the WSOP. The honorable second place is occupied by American pro player Chris Ferguson with 135 prizes.
Last time with his fifteenth WSOP bracelet, Phil confirmed his title of the most titled participant in the World Series of Poker. As a reminder, no player other than Phil Hellmuth has more than ten WSOP bracelets on his account.