Three years of PokerMatch: three tournaments, three million and other surprises
21 is a sign number not only for cards, but in general. Recently, more precisely, for three years now, July twenty-first has been one of the main dates for the Russian-speaking segment of poker: on this day Pokermatch, the most famous and dynamically developing Ukrainian room.
On the occasion of the upcoming celebrations, the birthday boy has prepared a large and varied program. It will affect not only the birthday itself, but also an extensive period after it: suffice it to say that there will be three anniversary tournaments alone, and they will be held in July, August and September - of course, every time on the 21st, starting at 20:00 (hereinafter, Moscow time is indicated).

These will be events with the prefix "mega": the guaranteed prize fund of each of them will be one million hryvnia, and their winners will be awarded cups with personalized engraving. The cost of participation in any of them is 220 UAH, and those for whom it is too expensive will be able to qualify for the main tournaments through satellites.
There are other options to play in anniversary events - you can make a deposit of at least a thousand hryvnia to your PokerMatch account and enter the happy3 promo code. Also, triples will become key: their quads at any of the tables for playing hold'em for cash gives the right to a free ticket to a special satellite. There will be three of them, and each will have 25 entries to the festive tournament.
But this is not all that PokerMatch has prepared for their birthday. Already now, tournament money and branded souvenirs are raffled off on Facebook, which can be won simply by registering in the room's community and reposting information about the draw. You can get into the poker room either through the official website or by going link.
This marathon of unheard-of generosity ends on July 25th. The word "unheard of" was not used by chance: as soon as ten o'clock strikes, the work of the random number generator will begin, which will have to select one hundred winners of the competition.
They will become the owners of wonderful prizes from PokerMatch. Thirty people will receive one hundred tournament hryvnias, another two dozen - three hundred each, and the rest will receive not only payment means, but also gifts with the symbols of the room: cups, T-shirts and hoodies.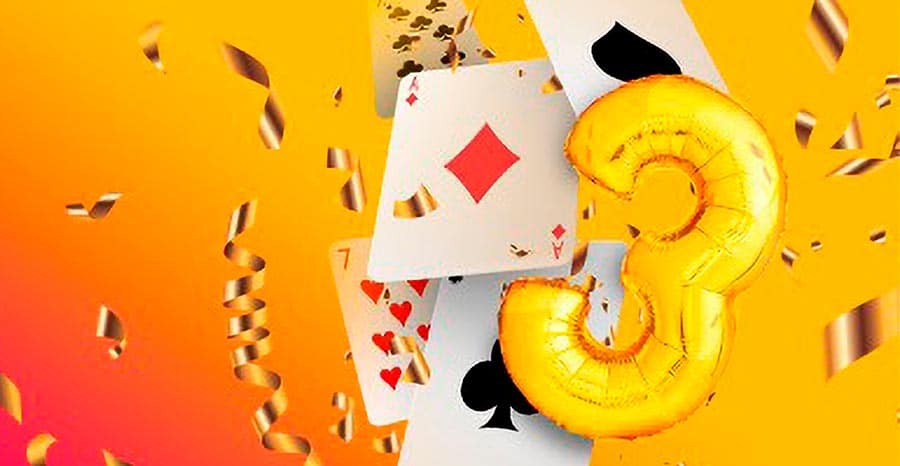 And from July 15 to July 21, special freerolls will be held at PokerMatch, which are divided into two arrays - for social networks and for streamers. The latter will run daily, starting at 21:00, and they will be played for three thousand hryvnias, but you won't be able to get into them just like that - only with a password, which the streamers of the room will announce in their broadcasts an hour before the tournament starts.
Passwords will also include traditional freerolls for social networks that take place at PokerMatch on Tuesdays, Thursdays and on weekends. On the occasion of the room's birthday, their prize funds will triple, and access will open from 18:00, when passwords to them will be published on the official channels of the room on Instagram, Telegram and Twitter.